Overview
The video displays the most important information for end customers. This includes contact details, address, opening hours and on which social media the company is present.
Markee uses information stored for the respective company in the service cloud and creates the video automatically with the help of standardised templates. If desired, Markee publishes the video on YouTube. Optionally, the video can be added to a defined playlist of a Youtube channel.


Requirements
Currently, Markee's video product is based on a template that includes the company name, the location address, the telephone number, the logo, a picture and – if available – a company slogan. Furthermore, there is the possibility to include opening hours, links to social media profiles and to the company's homepage.
Do you have additional wishes that deviate from the standard template? Then contact us and together we will develop the perfect solution for you.
To publish your company videos on your YouTube channel, a separate authentication is necessary. You can give Markee permission to add videos to your channel or optionally to one of your playlists when you activate the product.


Just a few steps to a video
After you have created your company and one or more locations in Markee, please add the corresponding data such as address, company logo and opening hours. Then book the Markee video licence and decide which optional content you would like to include. If all the required location data is available in Markee, the link to the generated video will be displayed shortly afterwards (approx. 15 minutes).
If you want to make changes to the video later, you can initiate a new generation. As soon as the video is created, you can upload it to Youtube. Authentication is required for this.


Authentication for the Youtube upload
In order to automatically publish your company videos on your Youtube channel, Markee needs your explicit permission. Only after you have given Markee this permission can the Service Cloud upload videos to your Youtube channel and, if desired, add them to a playlist defined by you.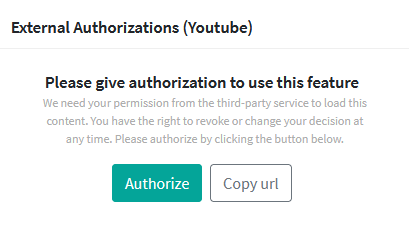 Please tick all the requested access rights.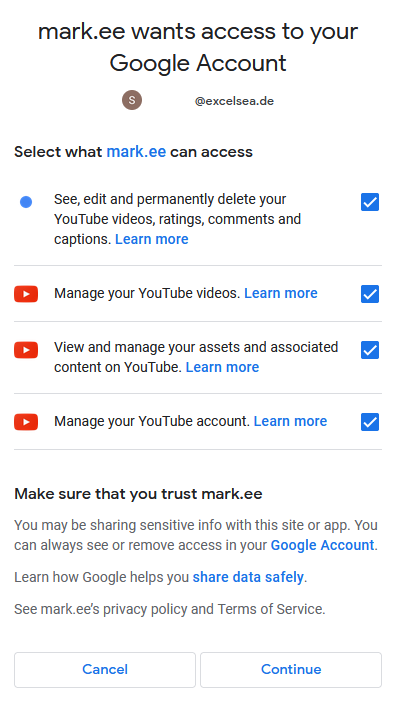 Once you have granted permission, you will be redirected to a confirmation page. The process is now complete.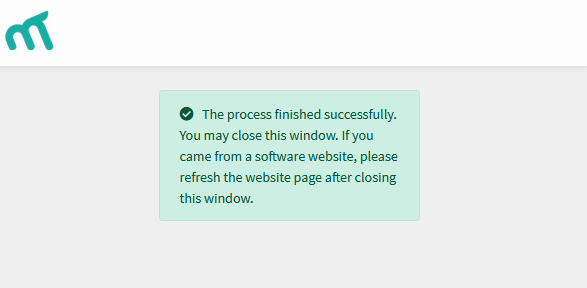 If you have any questions or problems with the authentication, please contact our Markee Support.
Revocation of authentication
You can revoke your permission for Markee to access your YouTube channel at any time. You can do this directly in Markee.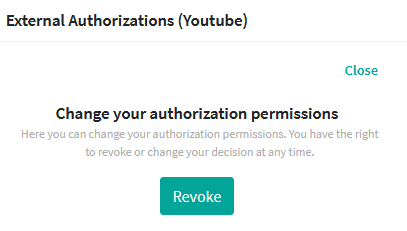 On the other hand, you can also revoke the authorisation via the settings of your Google account.


(Manage Google Account > Data and Privacy > Data from apps and services you use > Third-party apps with account access).